Visiting Safely in Times of Coronavirus
With the spread of the new coronavirus, we all need to take more precautions wherever we go. When you visit Kyoto, be sure to observe proper precautions like the travel etiquette below, follow local guidelines, and if needed, consult with the special hotlines below.
Etiquette While Traveling
Come Visit Us Safely
To all prefectural visitors
There is no need for elevated concern, so please remain calm and abide by the following points:
Wash your hands thoroughly
Please observe coughing etiquette (covering your mouth and nose)
These should be carried out alongside any other measures you would normally take to protect yourself against influenza.
Dedicated consultation service for coronavirus infections
As of March 10th (Tuesday) from 9am, a simultaneous interpretation telephone service has been made available to all international residents and tourists in Kyoto Prefecture.
Operating hours: 24/7 support
Telephone number: 075-414-4726
<Supported languages: English, Chinese, Korean, Portuguese, Spanish, Vietnamese>
*Vietnamese support is only available from 8:00 - 22:00
If you exhibit the following symptoms, do not go directly to a medical facility and instead please contact the dedicated consultation service first.
The presence of one or more symptoms such as difficulty breathing (labored breathing), extreme fatigue (physical weariness), a high fever, etc.
Those who are prone to serious illness, such as those with underlying conditions or the elderly, who experience relatively mild flu-like symptoms such as a fever or a cough.
For those other than the above mentioned, when relatively mild flu-like symptoms, such as a fever or cough, persist for an extended period of time.
Caution: These guidelines are for when to get a medical consultation/examination. As always, doctors will make individual decisions with regards to testing.
If testing is deemed necessary as a result of your consultion, you will be informed of a time to see a doctor and the method of your visit (method of transport and entrance to a medical facility).
This consultation service is also accepting general inquiries regarding the novel coronavirus.
Japan National Tourism Organization Visitor Hotline
Japan National Tourism Organization (JNTO) operates a visitor hotline 24 hours a day, 365 days a year. Please feel free to call for tourist information or assistance in case of accidents or emergencies, including coronavirus. Support is available in English, Chinese, and Korean. Please contact them using the following number: 050-3816-2787
More information from Kyoto Prefecture
Click below for more information from Kyoto Prefecture on COVID-19, and for other useful links.
Stickers indicating businesses observing coronavirus precautions
Called together by the Kyoto City Tourism Association, 23 tourism-related organizations in Kyoto Prefecture have established guidelines for realizing a new style of sightseeing in Kyoto during the era of COVID-19. Kyoto-issued stickers like the one below indicate Kyoto businesses that are observing coronavirus precautions based on these guidelines.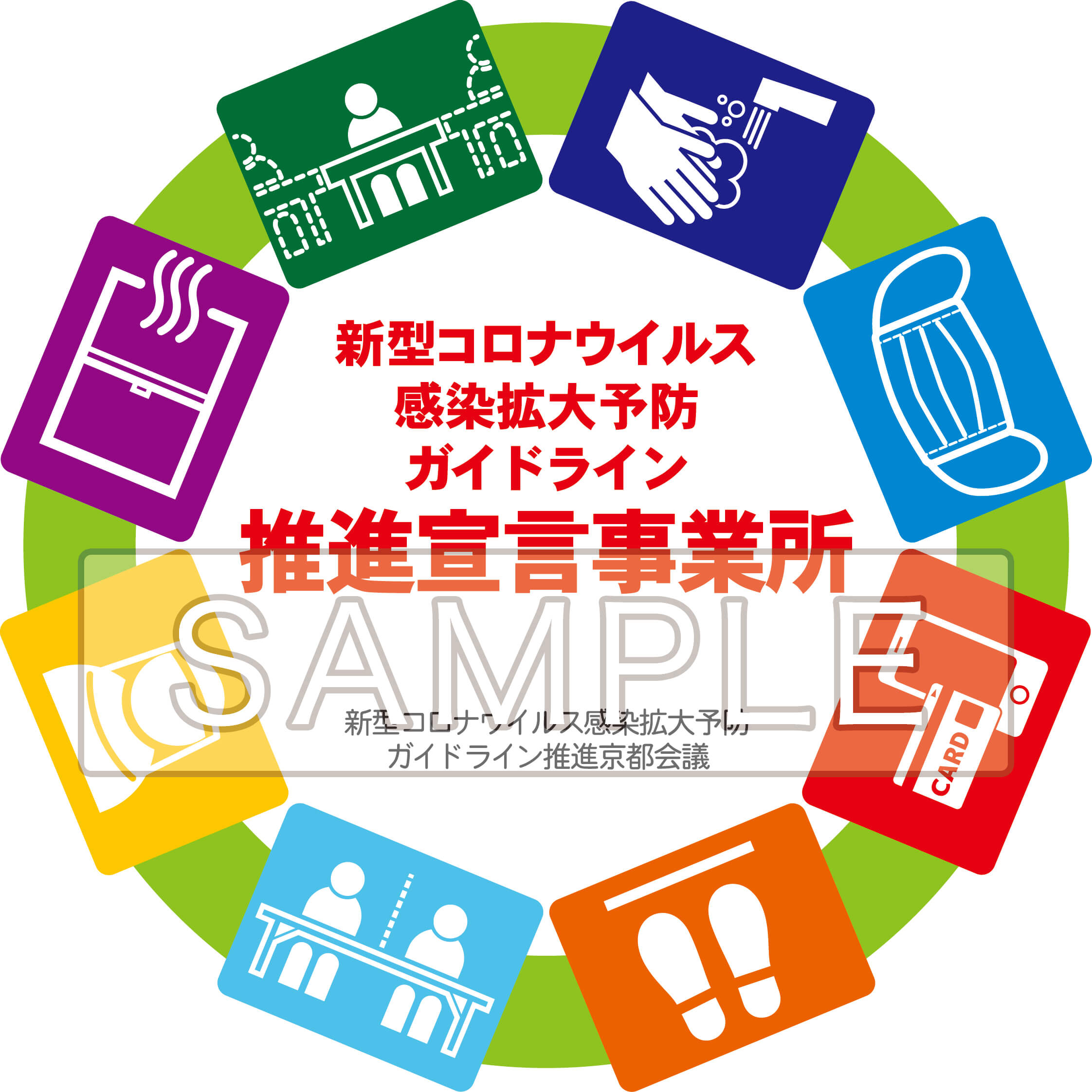 Video: A New Style of Kyoto Tourism
These unusual times have helped us to realize a new form of tourism in Kyoto. To ensure that everyone can enjoy a safe and enjoyable trip while COVID-19 is at large, we ask that you make your trip to Kyoto observing these new styles of travel etiquette.