Amanohashidate, Miyazu
Located in the scenic region of northern Kyoto, Amanohashidate is a 3.6km-long sandbar spanning the mouth of Miyazu Bay. Densely forested with thousands of pine trees, and silhouetted by white sand beaches, the picturesque sandbar has inspired Japanese scholars, artists, and landscape garden designers for centuries, and is today considered one of the Three Scenic Views of Japan.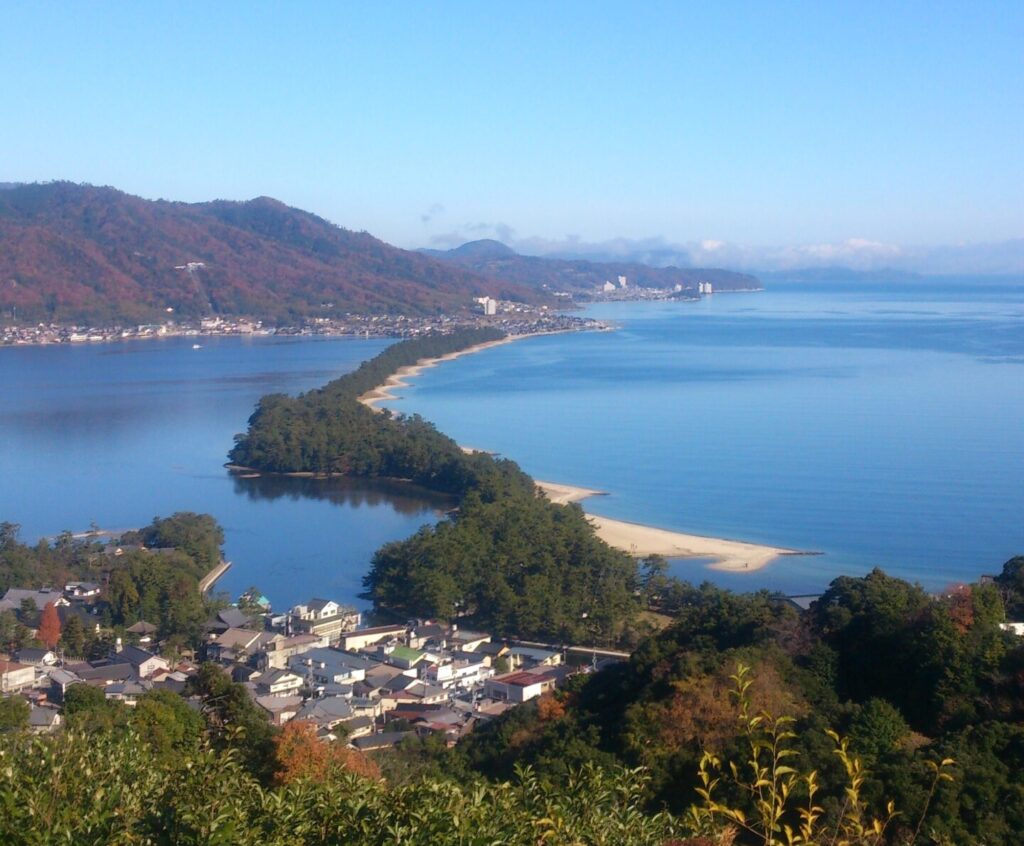 The myth associated with Amanohashidate is central to this fascination. Japan's creation myth centres on the goddess Izanami and the god Izanagi, whose divine coupling led to the birth of this land. The Tango Fudoki, early historical chronicles of the Tango region, tells a story of how Izanagi used a ladder, or the 'floating bridge of heaven' (Ama-no-Ukihashi), to visit Izanami on earth. It is unclear whether he tripped over the ladder, or whether it simply toppled over, but it fell out of the sky into the sea, becoming Amanohashidate. The minor detail of their being siblings notwithstanding, this folk tale is how the sandbar has come to be known as an auspicious place for lovers.
Amanohashidate
Amanohashidate is one of the "Three Most Famous Views in Japan." This natural land bridge is described in legend as having been created by the deity Izanagi-no-mikoto as a path from the heavens to visit the deity Izanami-no-mikoto. Amanohashidate is a natural work of art created by the Sea of Japan and the Noda River, flowing from its source on Mt. Oe. The mysterious beauty, the white sands and green pine trees present a truly superb view. Some 8,000 pine trees grow in the sand along the roughly 3.6-kilometer bridge.

The shrine Hashidate Myojin (Amanohashidate-jinja Shrine), a famous freshwater well called Isoshimizu, and a road bridge that swings 90 degrees to allow ferries and barges to pass are among its additional points of interest. Visitors can walk or cycle from one end of Amanohashidate to the other. There are benches and rest areas along the way.

Amanohashidate is included in many "Best 100" lists: 100 Famous Pine Trees of Japan, 100 White Sand and Green Pine Sites of Japan, 100 Roads of Japan, 100 Beaches of Japan, 100 Famous Waters, 100 Historic Parks of Japan, 100 Beautiful Historic Landscapes of Japan, and 100 Geological Features of Japan.
Besides walking along the sandbar, visitors usually partake in mata-nozoki: looking at Amanohashidate upside-down from between your legs. Heaven and earth are inverted, and the sandbar transforms into a magnificent dragon snaking through the sky. This is known as hiryūkan, or 'view of the flying dragon.' Amanohashidate View Land and Kasamatsu Park both offer excellent views of the sandbar as well as the bay.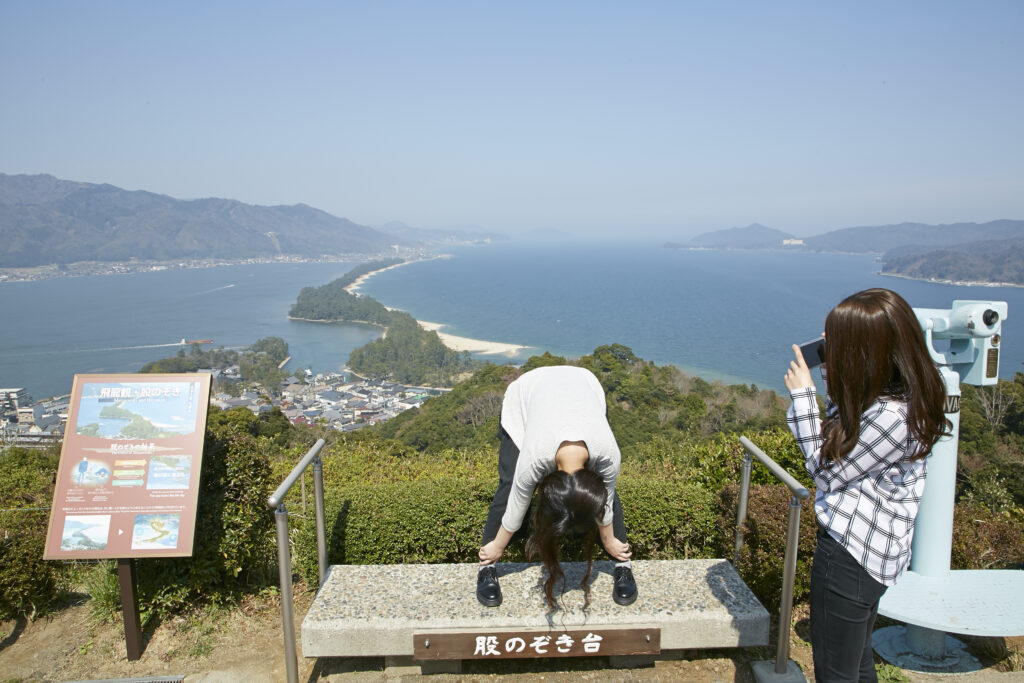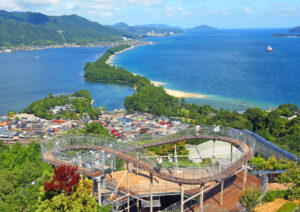 Amanohashidate Viewland
Amanohashidate Viewland is located on top of Mt. Monju, and can be reached via cable car or chair lift. The cable car chair lift is only a short walk from Amanohashidate Station, making it an easy way to catch panoramic views of Amanohashidate, one of Japan's Three Scenic Views. Amanohashidate Viewland is on the south side of the Amanohashidate land bridge.
When you get to the top, you will see people bending over to view the land bridge through their legs. This is called "matanozoki" and people do it because when upside down, the bays look like the sky and Amanohashidate becomes a green dragon flying across it. There are also a variety of family friendly attractions, such as a ferris wheel, sky-rail with pedal-cars, a sky walk, and many other rides and activities.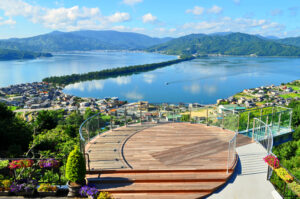 Kasamatsu Park
This is one of the two overlooks perfect for viewing Amanohashidate, one of Japan's Three Scenic Views. The park is located halfway between Motoise Kono Shrine and Nariai-ji Temple, and is accessible via chairlift or cable car.
At Kasamatsu Park, there is a gift shop, Ama Terrace Restaurant with excellent views of the Amanohashidate land bridge, as well as photo spots and places to view the land bridge upside down (by looking between your legs). This inverted view is famous and meant to look like a green dragon flying through the sky. From the park, visitors can also catch the mountain bus that runs between Kasamatsu Park and Nariai-ji Temple (one of the 33 temples on Japan's western pilgrimage route).