January to March
At the beginning of the new year religious rituals and services are held around the prefecture to pray for peace and bountiful harvests in the coming year. There are also events where you can admire snow scenes or, as spring edges nearer, plum blossoms. Bundle up and enjoy the crisp winter air.
◆Snow Lantern Festival in Miyama Thatched Village (Nantan City)
The Thatched Village in the Miyama district of Nantan City in the mountains of Kyoto Prefecture is a rustic hamlet of now-rare thatched-roof houses ranging from about 150 to 220 years in age. During the depths of winter in late January and early February, the snow-covered village is illuminated by hundreds of lanterns as part of its Snow Lantern Festival. The silvery glow of the lantern-lit houses shimmering in the night sky is nothing short of magical. Some years there are also fireworks and stalls selling hot food. Bus tours run directly from Kyoto Station. Details can be found on the festival's official website.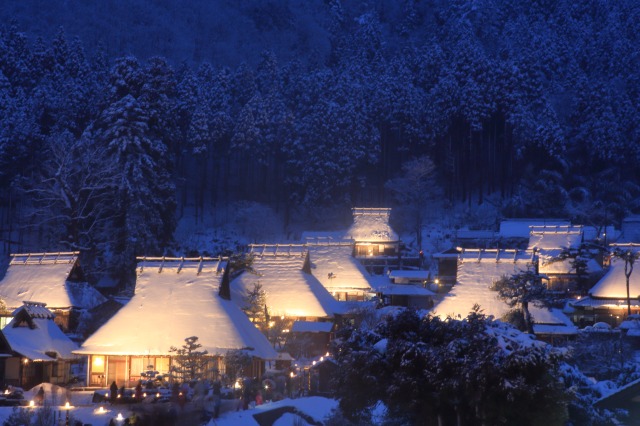 ◆Hyakudo-uchi (Kyotango City)
New Year on the old lunar calendar falls in February, so many shrines, temples and villages around the prefecture hold their annual rituals to pray for good health at this time of year. One of these is the district of Oganari in the port town of Taiza on the Tango Peninsula where the Hyakudo-uchi ceremony has been a fixture since the Edo Period (1603-1867). Men clad in ceremonial apron-style belts run through the icy-cold early morning streets visiting three different shrines where they offer stones from the local beach as symbols of wishes.
When: early morning on the first Sunday of February
Where: Taiza, Kyotango-cho, Kyotango City
Further information is available from Kyoto by the Sea DMO (visit@uminokyoto.jp).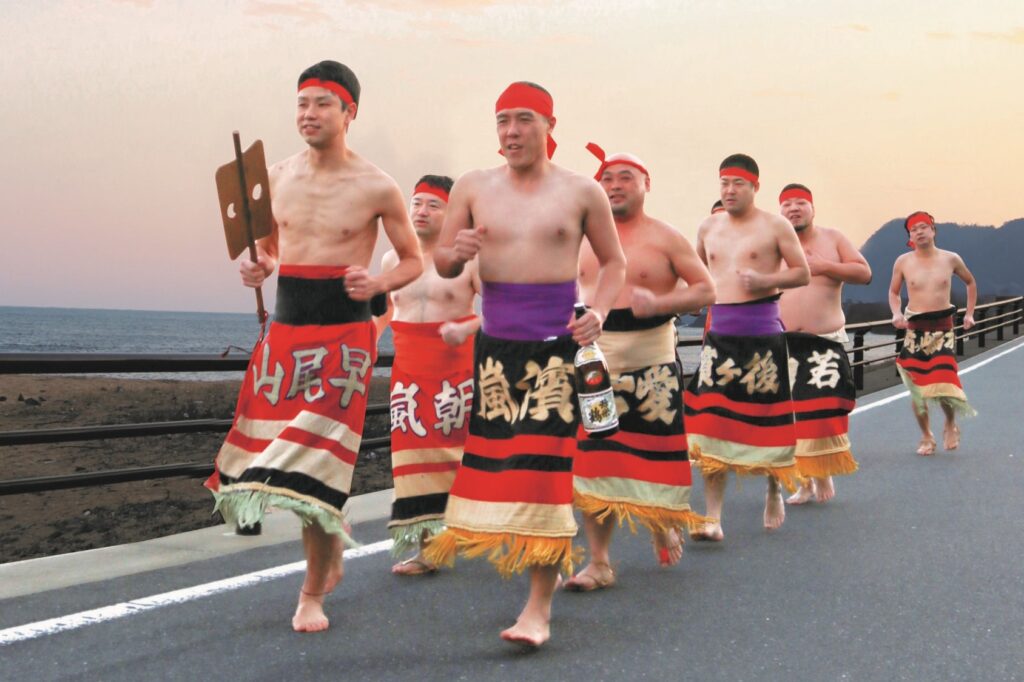 ◆Aodani Plum Grove Plum Festival (Joyo City)
The 20-hectare Aodani Plum Grove in Joyo City, the largest plum grove in Kyoto Prefecture, hosts its annual festival when the plum trees are in bloom in late February through to mid-March. Today we associate flower viewing with cherry blossoms, but until about the eighth century plum blossoms were favored. Enjoy the pretty white flowers and delicate scent of early spring like the ancients did.