What is Japanese tea?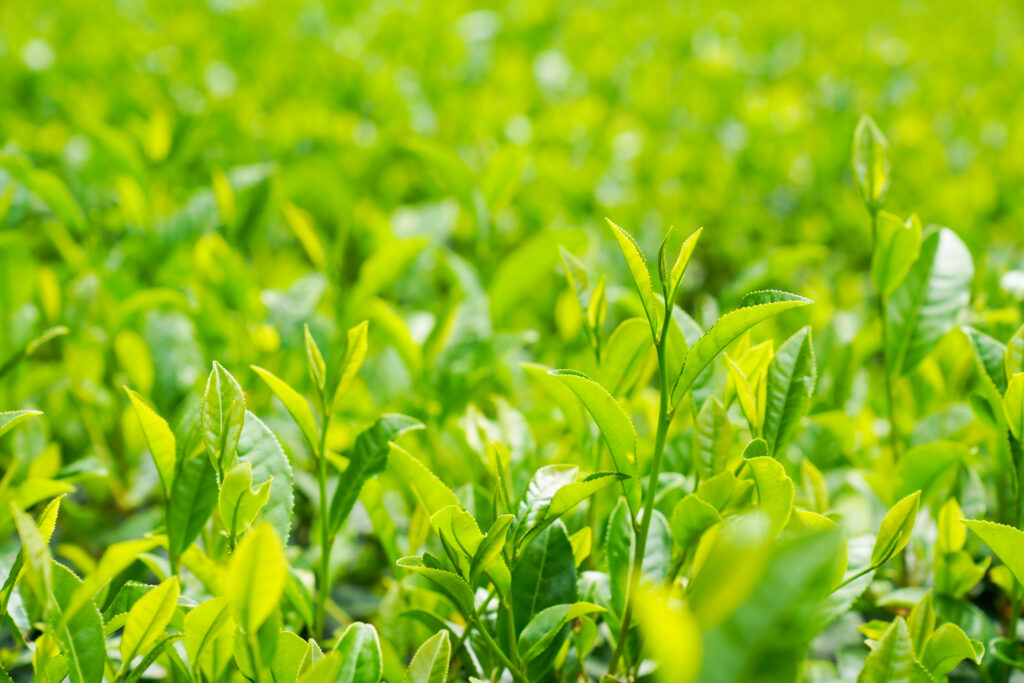 Japanese tea is derived from the leaves of the Tea Camellia, the same plant from which black tea and Chinese teas (oolong and the like) are made. The plant is native to China, where its leaves are said to have been drunk for medicinal purposes for over 5000 years. The difference between the types of teas is in the processing—different levels of oxidization produce different teas. Green tea is made from leaves that have been fired soon after being picked. This arrests oxidization and gives the drink a fresh, leafy scent and balanced sweet and bitter components. Black tea comes from leaves that have been allowed to oxidize—the oxidization process produces the stronger flavor and scent of black tea. Chinese tea is partially oxidized, falling somewhere between green and black varieties.
・Kyoto, the home of Japanese tea
Known for producing top-grade tea, the Yamashiro region in the south of Kyoto Prefecture has an 800-year history of tea cultivation. With Kyoto having been the capital for centuries, tea from the Yamashiro region garnered the favour of the discerning nobility and gourmet-minded citizens in the city, and the farmers were able to hone the product to achieve the superior quality and refined taste we know now. The three major types of Japanese tea—matcha (powdered tea), sencha (the most common type of steeped green tea), and gyokuro (highest-grade steeped green tea)—all originated in Yamashiro, earning the area the honor of being the "motherland" of Japanese tea.
The production methods developed in the Yamashiro region are used in Kyoto and surrounding prefectures. Tea from plants grown in these areas according to the traditional Yamashiro methods is called Uji tea after the birthplace of green tea. Uji tea is prized primarily for its fresh aroma, but also boasts a rich taste and an excellent balance of sweetness, astringency, and umami. The secret behind the flavor is gogumi, or traditional blending techniques handed down from generation to generation of highly skilled blenders. With such a history of tea production in the prefecture, it's not surprising that Kyoto is also where the iconic tea ceremony blossomed.
The ideal climate for tea cultivation is a relatively warm one with a significant difference between daytime and nighttime temperatures. Morning fog is a plus as it prevents frost from forming on the leaves and helps to produce a moister leaf (moist leaves yield a more aromatic tea). The Yamashiro region ticks all these boxes, especially because of dense morning fog that gathers over the Uji and Kizu Rivers and in the mountains, making it the perfect location to grow delicious tea.