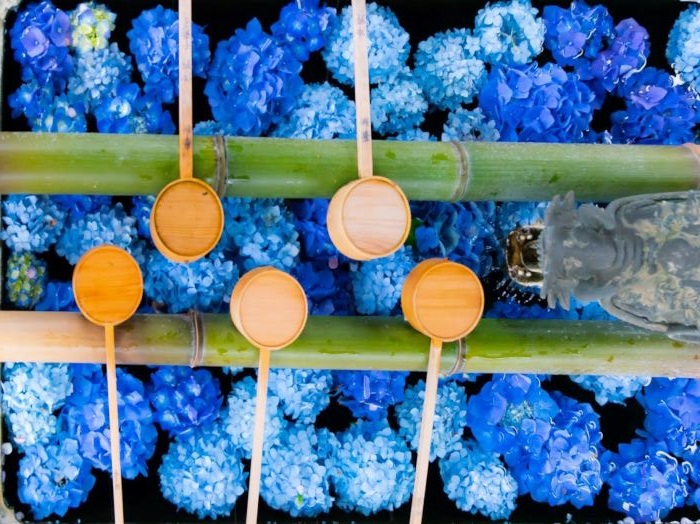 This course begins following some sightseeing in nearby Nara, famous for its historical temples amongst natural settings. Today, we're setting out to explore some of Kyoto Prefecture's photo-worthy locations, with some breaks in relaxing, nature-filled spots. From Nara Station, head first to beautiful Gansen-ji Temple, known for its three-storied vermillion pagoda in the forest, as well as gorgeous hydrangea that bloom in June. Next, head to Keihanna Commemorative Park for a relaxing stroll through its landscape garden, as well as access to a variety of activities and events. From there, its on to Uji for some scrumptuous matcha sweets, and a sight of famous Byodo-in Temple. On day two, rent a bicycle and head to eastern Kyoto's bamboo forest for some wonderful sights, and some tea time. After a final stop for more exquisite hydrangea at Yokoku-ji Temple, be sure to try the local specialty of bamboo shoot macarons!
Day 1
JR Nara Station
15 minutes by train
JR Kamo Station
16 minutes by bus
1

Gansen-ji Temple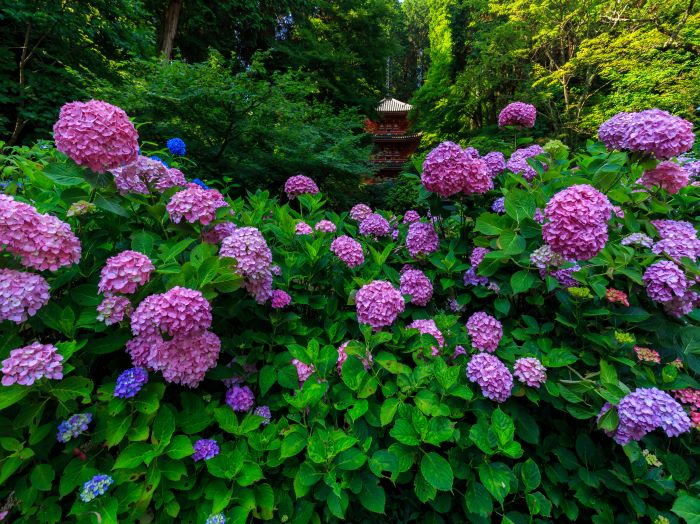 Gansen-ji Temple is an ancient Buddhist temple located in Kamo-cho, part of Kizugawa City in the southernmost part of Kyoto Prefecture. Thought to have been built in 729, the name "Gansen-ji" translates literally to "Rock Boat Temple" and near the entrance of the temple's main gate is a boat-shaped rock, where legend has it that priests used the rock for sacred cleansing rituals. Nestled in the pristine nature of Kyoto's tea producing region, the three-storied pagoda on the temple grounds is a designated Important Cultural Property and the main hall maintains an ancient yet elegant charm. Gansen-ji Temple is famous for its displays of bright hydrangeas, water lillies, and crape myrtle flowers in the summer. Gansen-ji is truly a sight to see in any of the four seasons, though, with Japanese plum and cherry blossom trees blooming in the spring, autumn foliage, and camelias in the winter.
Tel

0774-76-3390

Address

43 Kaminomon, Iwafune, Kamo-cho, Kizugawa City, Kyoto Prefecture

Access

Train:
From Kamo Station on the the JR Yamatoji Line, take the Kizugawa Community Bus towards Kamoyamano-ie for approximately 16 minutes, and get off at "Gansenji" bus stop.

From Nara Station on the JR Kintestu line, either
1) take Nara Kostu Bus to Joruriji, approximately a 26-minute ride, get off at "Joruriji" bus stop and take the Kizugawa Community Bus (bound for JR Kamo Station) for approximately 7 minutes to "Gansenji" bus stop.
*Buses to Joruriji run annually during April, May, and November.
2) Take Nara Kostu bus (bound for Shimosagawa/Hiro-oka) for approximately 25 minutes, get off at "Gansenjiguchi" bus stop and walk for about 30 minutes.
16 minutes by bus
JR Kamo Station
12 minutes by train
Hosono Station
10 minutes by bus
2

Keihanna Commemorative Park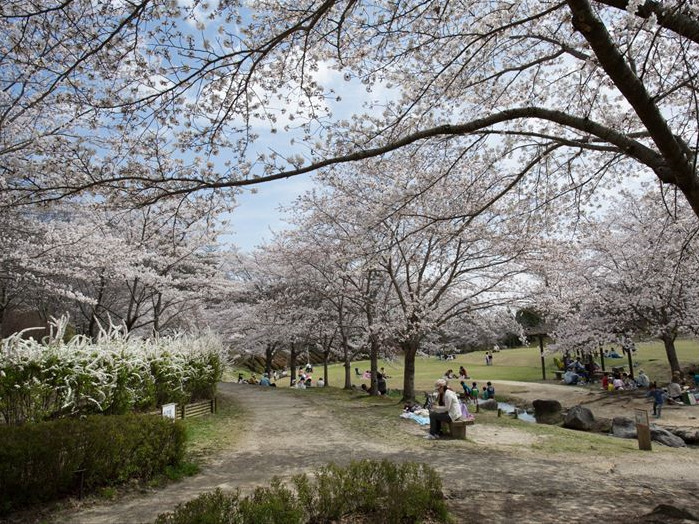 Keihanna Commemorative Park is 24.1 hectares in size, and commemorates the establishment of Keihanna Science City (Kansai Culture and Science Research City) in 1995. The park includes both freely accessible and paid areas. The free areas include the 'Hiroba' a wide open plaza, which has cascading grounds shaped like rice-paddy terraces with large lawns for playing freely, and a childrens' playground. Also free of charge is the 'Tani-ai' valley, made to look like a typical Japanese landscape with a small stream, bamboo grove, and plum garden. The paid area includes the Suikei-en, a Japanese-style garden with a path that brings you around scenery including a magnificent rock cluster, cascading water ponds, colourful seasonal flora and an area to feed carp, making it enjoyable for children and adults alike. Visitors can also enjoy a panoramic view of the garden from Kangetsukyo Bridge, which is 123m long and 4m wide, and 10m above the water. Particularly spectacular is the view of autumn foliage from the Japanese maple tree valley. There, amongst the moss, approximately 80 trees line a small, delicate stream. Inside Suikei-en Garden you can also find Mebuki Forest and Nagatani Pond, which are likewise styled like traditional Japanese landscapes, perfect for a stroll to enjoy nature in all four seasons. Additionally, the park hosts a range of events, from firefly-viewing to star-gazing.
Tel

0774-93-1200

Address

6-1 Seikadai, Seika-cho, Soraku District, Kyoto Prefecture

Access

Bus:
-From the Hosono Station on the JR Line or Shin-Hosono Station on the Kintetsu Line, take Nara Kotsu Bus #56 heading towards Gakken Nara Tomigaoka for approximately 9 minutes.
-From Gakken Nara Tomigaoka Station on the Kintetsu Line, take Nara Kotsu Bus #56 towards Hosono for approximately 18 minutes.
*For Suikei-en Garden, get off at "Koen Higashi Dori" bus stop. For the Hiroba (plaza), get off at "Keihanna Kinen Koen" bus stop.

Car:
-From the Keinawa Expressway, take the Seika Gakken Interchange exit, then take the Seika Main Road west for approximately 1km.
-From National Route 163, at the Inuidani-nishi Intersection travel north for approximately 2km, then take the Seika Main Road heading east for 300m.
-From Yawata Kizu Prefectural Road, reach the Seika Main Road intersection and travel west for approximately 2.2km.
11 minutes by bus
Hosono Station
30 minutes by train
Uji Station
3

Nakamura Tokichi Honten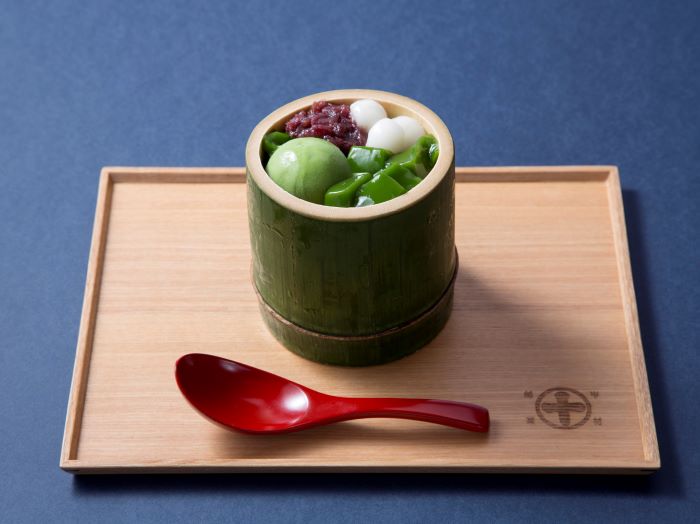 Opened in 1854, with a history of more than 165 years, this tea shop is famous for its matcha sweets. While there are three Nakamura Tokichi stores in Kyoto Prefecture, the Nakamura Tokichi Uji Head Shop, which was the first store opened, is a must visit for those with a sweet tooth. Only a minute from JR Uji Station, the store building is an important item of cultural heritage. In the gardens, there is a stunning 200-year-old pine tree, the Horaifuna-matsu, one of 100 famous trees in Uji City. Visitors can enjoy the view from the open terrace building, remodeled from what was once the tea factory, while sipping their tea. The most popular delicacies in the store are, of course, the tea and the desserts! The tea jellies are a particular favorite, (which come in two flavors: matcha and hojicha roasted tea) and are made using Nakamura Tokichi's secret recipe, sealing all the matcha flavor into the jelly, and paired with matcha ice cream, Japanese white flour dumplings, and red bean paste. It's a luxurious dessert served in a photogenic bamboo cup only used at the Uji main store.
Address

10 Uji Ichiban, Uji City, Kyoto Prefecture

Access

Train:

1 minute walk from Uji Station on the JR Nara Line.

10 minutes' walk from Uji Station on the Keihan Line.
6 minutes walk
4

Byodo-in Temple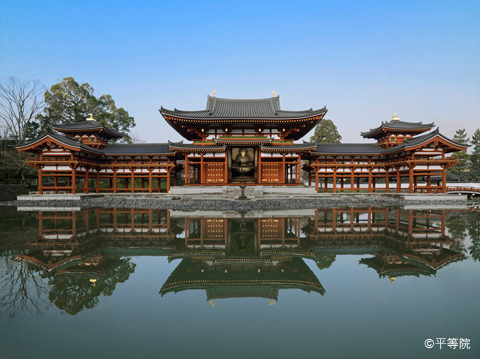 Byodo-in Temple, which shows the historical glory of the Fujiwara clan, was once a villa on the west bank of the Uji-gawa River. It belonged to Minamoto no Toru but was given to Fujiwara no Michinaga. His son, Yorimichi, converted it into a temple. The Houou-do (Phoenix Hall, a National Treasure), which is surrounded by the Aji-ike pond, demonstrates elements of the gardens of the Heian period (794-1185). The influence of the Heian aristocracy, who dreamt of entering the Pure Land of Amida Buddha, can be seen in the building. Byodo-in Temple is depicted on the 10-yen coin and is a familiar sight in Japan. Meanwhile, the Byodo-in Museum Hoshokan exhibits precious items owned by the temple, such as the National Treasures of a Gilt Bronze Phoenix, "Unchu Kuyo Bosatsu" (Buddhist saints holding a mass in the clouds), and Bonshou (temple bells). Reproductions that made with computer graphics utilizing state-of-the-art digital technology can also be enjoyed in the museum.
Tel

0774-21-2861

Address

116 Uji Renge, Uji City, Kyoto Prefecture

Access

10 minute walk from Uji Station on the Keihan Uji Line, or from Uji Station on the JR Nara Line
Day 2
JR Uji Station
35 minutes by train
JR Mukomachi Station
3 minutes walk
Muko City Sightseeing Community Center Machiteras MUKO (Rent a shared bicycle)
15 minutes by bicycle
5

Take-no-Michi (The Bamboo Path)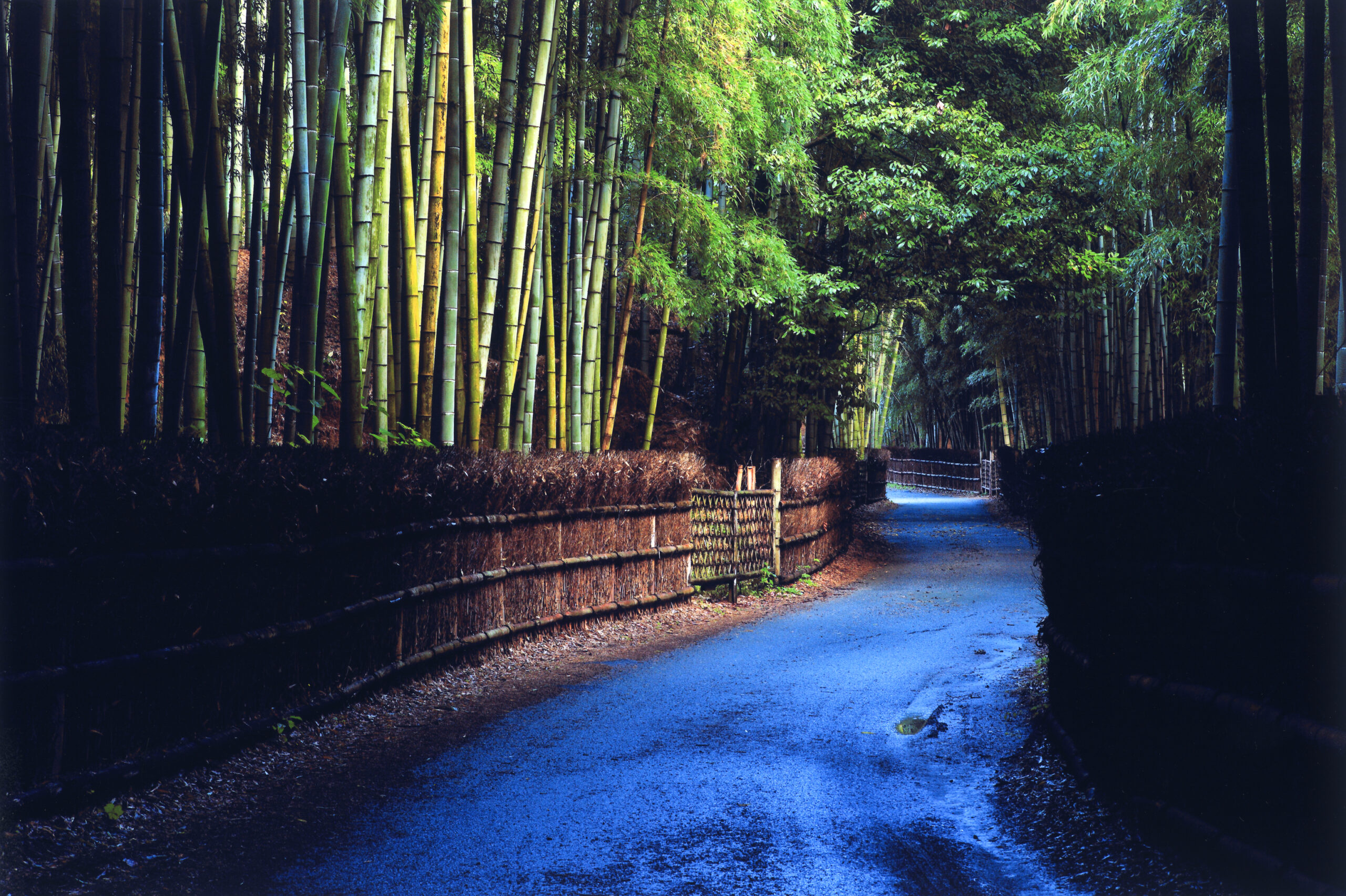 Bamboo shoots are one of Kyoto's specialty products, but the "Otokuni" area around Muko City and Nagaokakyo City is known for producing some of the highest quality bamboo shoots in Kyoto. Take-no-Michi (the Bamboo Path) is located in the Muko hills in the northwestern part of Muko city and has a total length of about 1.8 km. The area has been improved since 2000 to preserve the scenery and promote tourism. Both sides of the road are lined by eight different kinds of bamboo hedge, including original creations such as "Takehogaki," a hedge made of bamboo branches tied in bundles, "Kofungaki," a hedge that looks like a rounded ancient burial mound, and "Kaguyagaki," a hedge patterned after the neck of a 12-layered ceremonial kimono worn by Princess Kaguya, the protagonist of the folk story "The Tale of the Bamboo Cutter." As a result, in recent years the path is has won numerous awards. In addition to receiving the "Handmade Hometown Award" from the Ministry of Land, Infrastructure, Transport and Tourism, it has been certified by the Japan Walking Association as one of the "500 Most Beautiful Japanese Walking Paths" and "Best 100 National Walking Paths." Further, the path is designated as a "Kyoto Scenic Asset" and a "Kyoto Cultural Landscape." Despite all the above, it is still a little-known tourist spot. You can enjoy a relaxing stroll through the bamboo forest away from the hustle and bustle while listening to the sound of the bamboo grass swaying in the wind and the chirping of small birds. Every autumn, a light-up event called "Bamboo Path / Kaguya-no-yube (Kaguya's Evening)" is held. More than 4,500 bamboo lanterns made of candles floating in bamboo tubes filled with water are lit all over the bamboo grove. Combined with the colors of the setting sun the sight is spectacular.
Address

Shibayama, Terado-cho, Muko City to Kyoto-Mozumecho Nagano, Nakakaido

Access

Bus: Take a bus from "Katsuragawa" station on the JR Kyoto line or "Rakusaiguchi" station on the Hankyu Kyoto line and get off at "Muko Kaisei Hospital", then walk for 10 minutes.
Take a bus from "Mukomachi" station on the JR Kyoto line or "Higashimuko" station on the Hankyu Kyoto line and get off at "Higashiyama", then walk for 10 minutes.
15 minutes by bicycle
Chodo-in Park (Return rented bicycle)
3 minutes walk
Hankyu Nishi-Muko Station
2 minutes by train
Nagaoka Tenjin Station
3 minutes by taxi
6

Chatei Fu-an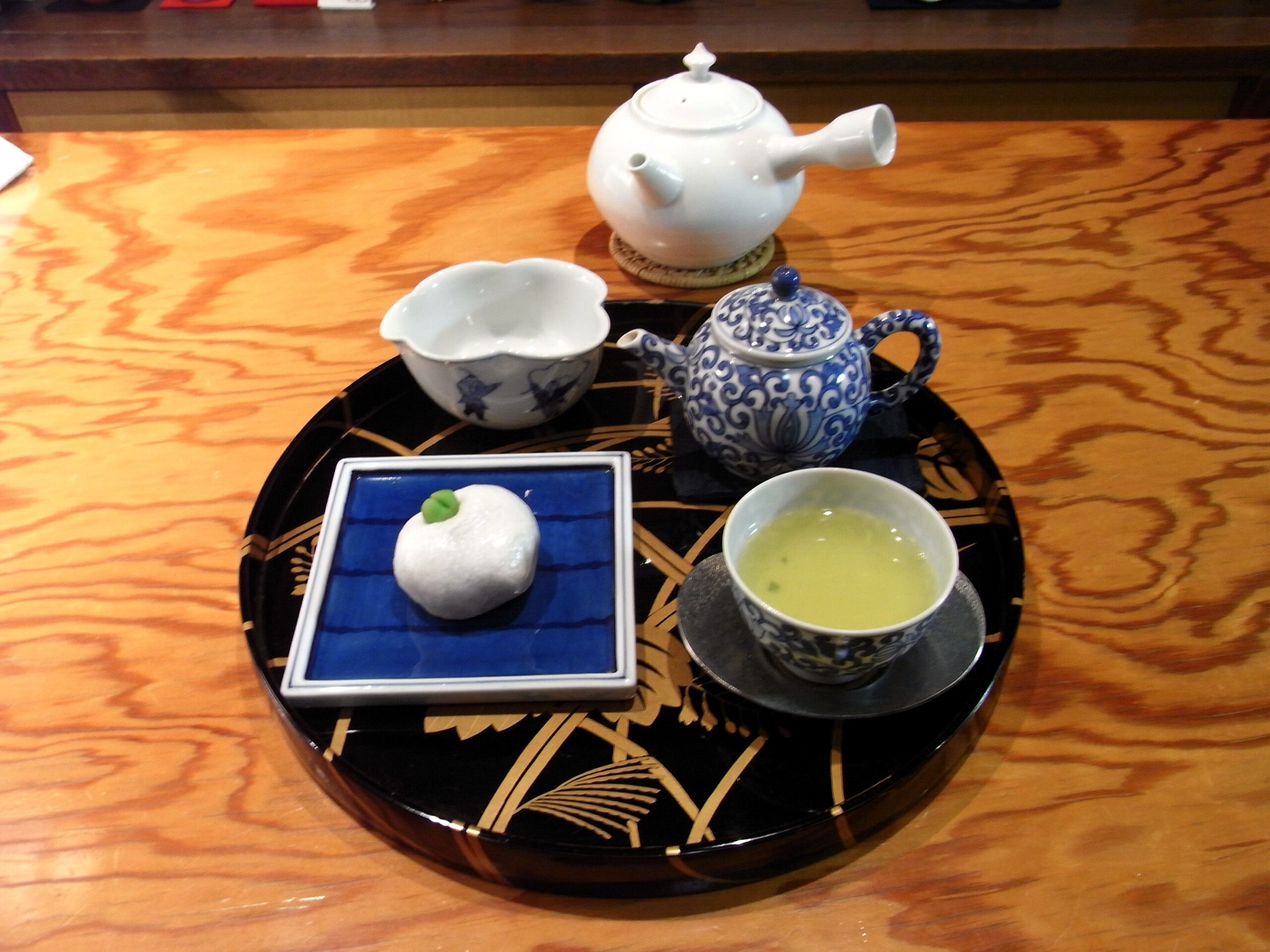 Established in 1995, Chatei Fu-an was the first tea boutique in the Otokuni Region of Kyoto Prefecture. It's accredited as an Uji tea café, and here you can find the kind of Uji matcha green tea, high-quality gyokuro green tea, medium grade sencha tea, select houjicha roasted green tea, and select genmaicha (tea with roasted rice) you can only find in a boutique. Each tea is carefully brewed for your enjoyment. Chatei Fu-an also offers a variety of original drinks and sweets made with matcha, and original dishes made with tea leaves.
Address

1-2-18 Nagaoka, Nagaokakyo City, Kyoto Prefecture

Access

Train: 2 minute walk from Nagaoka-Tenjin Station on the Hankyu Kyoto Line
15 minutes by taxi
7

Yanagidani Kannon (Yokoku-ji Temple)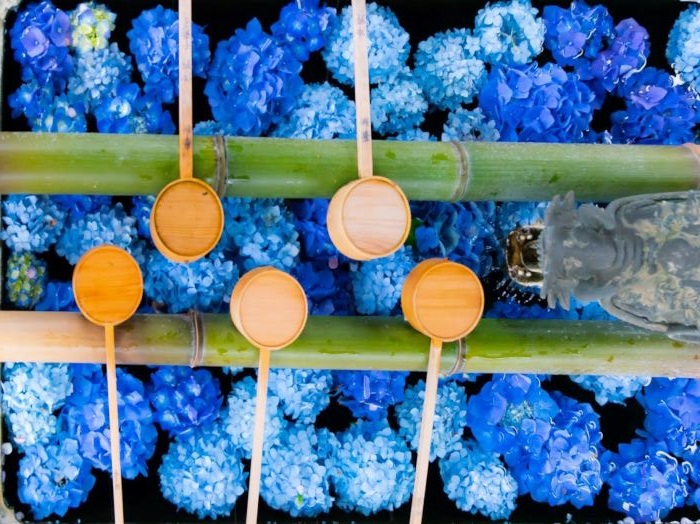 Yanagidani Kannon (Yokokuji Temple) is located in Nagaokakyo City, not far from Kyoto City and close to the famous Otokuni Bamboo Grove, where the main attraction is the eleven-faced, thousand-armed statue of the bodhisattva Kannon statue. The temple is built on the side of a mountain, and the inner temple building and main hall are connected by a long corridor surrounded by a Kyoto-designated scenic garden, Jodo-en. On the second floor is the Kamishoin Study, which was once a designated study room for elites during the Meiji era (1868-1912). These days, the study room and its beautiful view of the gardens is open to the public. The Yokokuji Hydrangea Path is a famous place to enjoy hydrangeas and inludes over 4,500 hydrangea plants that bloom in June and in the summer months. In autumn, the deep red carpet of the Kamishoin Study and bright red autumn foliage creates an impressive sight, open for viewing only on the 17th of each month. It's also widely believed that there is holy water ("oko-zui") at Yokoku-ji Temple connected to the famous Buddhist monk Kukai, and that this water is thought to heal diseases of the eye.
Address

2 Donotani, Jododani, Nagaokakyo City, Kyoto Prefecture

Access

Train:
From Hankyu Nishiyama Tennozan Station, take Hankyu Bus to "Okukaiin-ji" bus top, then walk approximately 40 minutes or take a taxi for 10 minutes.
From Hankyu Nagaoka Tenjin Station, take Hankyu Bus to "Okukain-ji" bus stop, then walk approximately 40 minutes or take a taxi for 10 minutes.
Approximately 15 minutes by taxi from JR Nagaokakyo Station.

Car: About 10 minutes from the Nagaokakyo IC exit (on the Kyoto Ju-kando Expressway)

*On the 17th of each month there are shuttle buses from the east exit of Hankyu Nishiyama Tennozan Station and the west exit of JR Nagaokakyo Station (300 yen one way). The bus will depart once it is full, regardless of time. For more information please refer to the website (Japanese only) https://yanagidani.jp/access/
15 minutes by taxi
8

Bamboo shoot sweets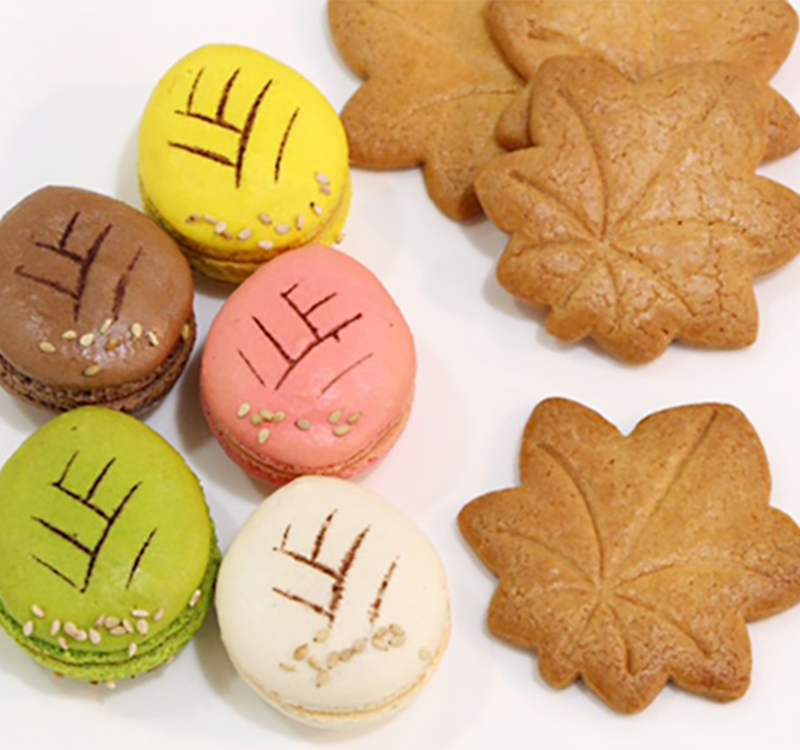 Bamboo shoot macaroons are a local Nagaokakyo specialty, a new kind of confectionery that looks just like the bamboo shoots it uses. They won the grand prize in the local Nagaokakyo sweets competition, and local cake and tea shops in Nagaokakyo are making bamboo shoot macaroons with their store's own unique twist. Enjoy these colorful bamboo shaped confectioneries and their different aromas and textures. You'll also find bamboo shoot flavored bean wafers, bean breads, and so on.

Cake House Nils
http://cakehouse-nils.com/